The context of joint replacement
When planning for joint replacement surgery, it's easy to focus on the "surgery" part—but what happens pre- and post-operation is just as important. At Welia Health, we work towards the best possible outcome by looking after every aspect of your well-being before, during, and after the procedure. To discuss how you can prepare for and recover from your surgery, call our orthopedics department at 320.679.1313, and read on to find out more about what to expect.
Preparing for surgery
In the lead-up to your surgery, you'll meet with your surgeon to discuss the specifics of the operation and help you prepare. You'll likely undergo a general medical evaluation to check in about your health history and any medication you're taking, and your provider may suggest additional tests to monitor your health, such as blood tests, an electrocardiogram (EKG), a chest X-ray, or a urine sample.
Your provider will walk you through a few simple things you can do to make sure you're as healthy as you can be going into surgery. Some examples include cutting down on smoking if you smoke, eating a nutritious diet and limiting alcohol. Physical Therapy will perform a "prehabilitation" or prehab appointment in which we help you prepare yourself mentally, the joint and your whole body for surgery. This appointment is helpful in relieving anxiety and increasing understanding of the pre- and post-surgical process. (Learn more about getting your mind and body ready).
We will also instruct you on how to prepare your home and communicate with others in your life about the support you'll need after surgery. Surgical staff will recommend last-minute preparations, including showering or bathing beforehand, packing an overnight bag, and scheduling someone to pick you up from the hospital. Incorporating a new joint is intense for your body, and the more prepared you are, the quicker your recovery will be. Prehab is one of the best things you can do to make sure maximize the function of your new joint.
What you do before an operation can help you recover more quickly afterward, so in the weeks and months before your joint replacement surgery, give yourself time to prepare. And don't hesitate to check in with your doctor about any questions and concerns—no one knows your health better than you do. At Welia Health, we're here to listen and work with you to make the surgery as successful and stress-free as it can be.
Recovering with your new joint
The road to recovery begins as soon as surgery is over. Immediately after the procedure, your orthopedic team at Welia Health will start working with you to manage pain, move the joint, and get you walking. Many people are released from the hospital the same day, though you may stay for a day or two, depending on your health and the type of anesthesia used.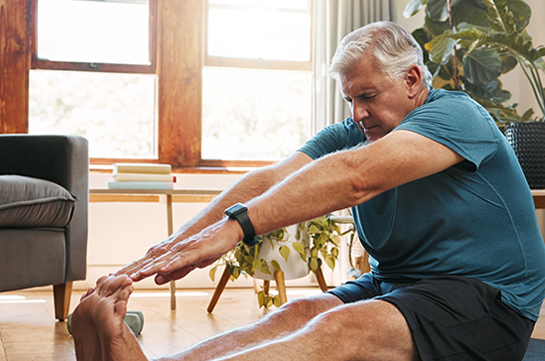 You will need someone to drive you home, and it can also be helpful to have someone to pitch in around the house while you heal (find out more about talking with your caregiver about what you'll need). At first, you will probably experience some pain as your tissues heal and your body adjusts to the new joint. The doctor may recommend pain medication to help with this normal part of recovery—but if the pain is severe and consistent, or if you have bleeding, fever, or signs of infection, call your doctor right away.
You'll be encouraged to keep the new joint moving, safely and in moderation. A day after surgery, you'll meet with a physical therapist, who will help you strengthen your joint in the weeks and months to come (it's common to attend physical therapy appointments for 2-3 months). These appointments are a great time to share any pain or difficulty you're experiencing. The physical therapist can help you stretch or strengthen the necessary muscles, recommend pain and swelling management strategies and any lifestyle changes that might help, and refer the case to your doctor if necessary.
Consistent follow-up is crucial, not just with your physical therapist but also with the doctor in charge of your case. You'll probably have a follow-up appointment two to three weeks post-operation to check on wound healing and recovery, followed by another visit at the 6-8 week mark after surgery to document the joints and your progress. After that, there may be another follow-up in a few months, and if everything's going well, the doctor will plan an appointment for one year postoperation (read more about common recovery benchmarks).
Everyone recovers differently, and it's crucial to stay in regular contact with your healthcare team. After surgery, your healthcare providers will connect you with recovery resources and help build a recovery process that fits your needs. From preparing your body before surgery to returning to activity afterward, Welia Health is here to help every step of the way.
---
Questions about your joint surgery? Call the Welia Health orthopedic team at 320.679.1313 to schedule a time to talk and discuss the next steps.