Banana Oatmeal Cookies
Yield: 12 servings
Ingredients
2 cups old-fashioned oats
1 teaspoon baking soda
1 teaspoon cinnamon
1 ½ teaspoon unsweetened cocoa powder
¼ teaspoon nutmeg
¼ teaspoon ground ginger
4 medium-sized ripe bananas
⅓ cup chopped walnuts
DIRECTIONS
Preheat oven to 350˚. Line a baking sheet with parchment or spray with non-stick spray.
Use a high-power blender to process oats to the consistency of flour. Pour into mixing bowl and add baking soda and spices.
Blend bananas until completely smooth. Add to oatmeal mixture along with the nuts (or other dried fruit) and mix until combined.
Drop 2 tablespoon balls of dough onto cookie sheet, spacing well. Dip the scoop or spoon into water to keep the dough from sticking. Use lightly moistened fingers to flatten each cookie. Bake for 15 minutes.
Cool cookies on wire rack and store in an airtight container.
Southwestern Lettuce Wrap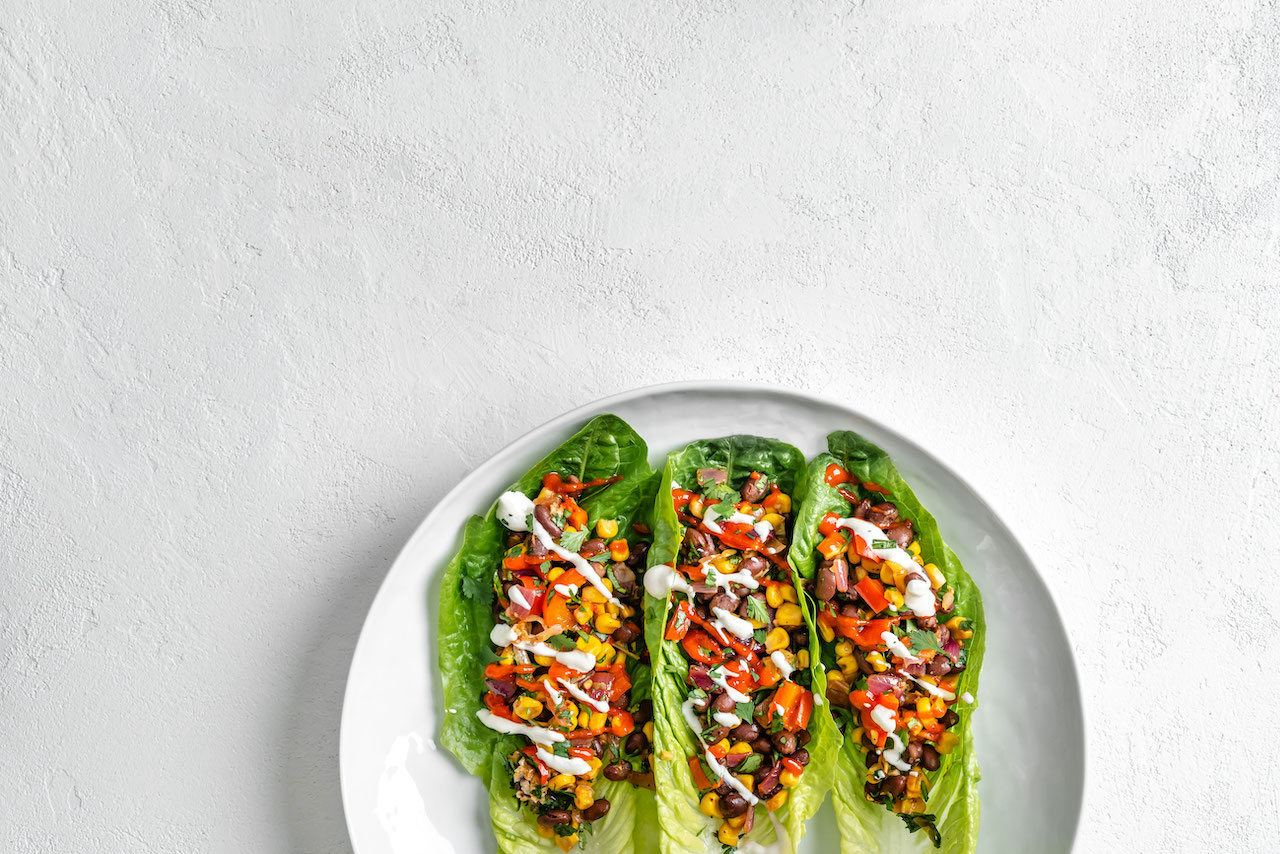 Total Cook Time: 30 minutes | Serves 2-4
INGREDIENTS
1 ½ tablespoons vegetable oil
1 small red or green bell pepper, diced
1 small red onion, diced
1 (15-ounce) can corn kernels, drained and rinsed
3 garlic cloves, minced
1 (15-ounce) can black beans, drained and rinsed
¼ cup packed minced fresh cilantro
1 teaspoon chili powder
Salt, to taste
Juice of ½–1 lemon
Large lettuce leaves (romaine, butter lettuce, iceberg, etc.)
Avocado slices
Diced tomatoes
Hot sauce
DIRECTIONS
In a large skillet, heat the oil over medium-high heat. Add the bell pepper and onion and sauté until the veggies start to become tender, 1 to 2 minutes.
Add the corn and garlic and sauté for 5 minutes.
Stir in the beans, cilantro, chili powder, salt, and lemon juice (start with 1/2 of the lemon and add more at the end if you'd like more tang) and cook just until heated through.
Allow to cool for 5 minutes, then serve in lettuce leaves.
BBQ Jackfruit Sandwiches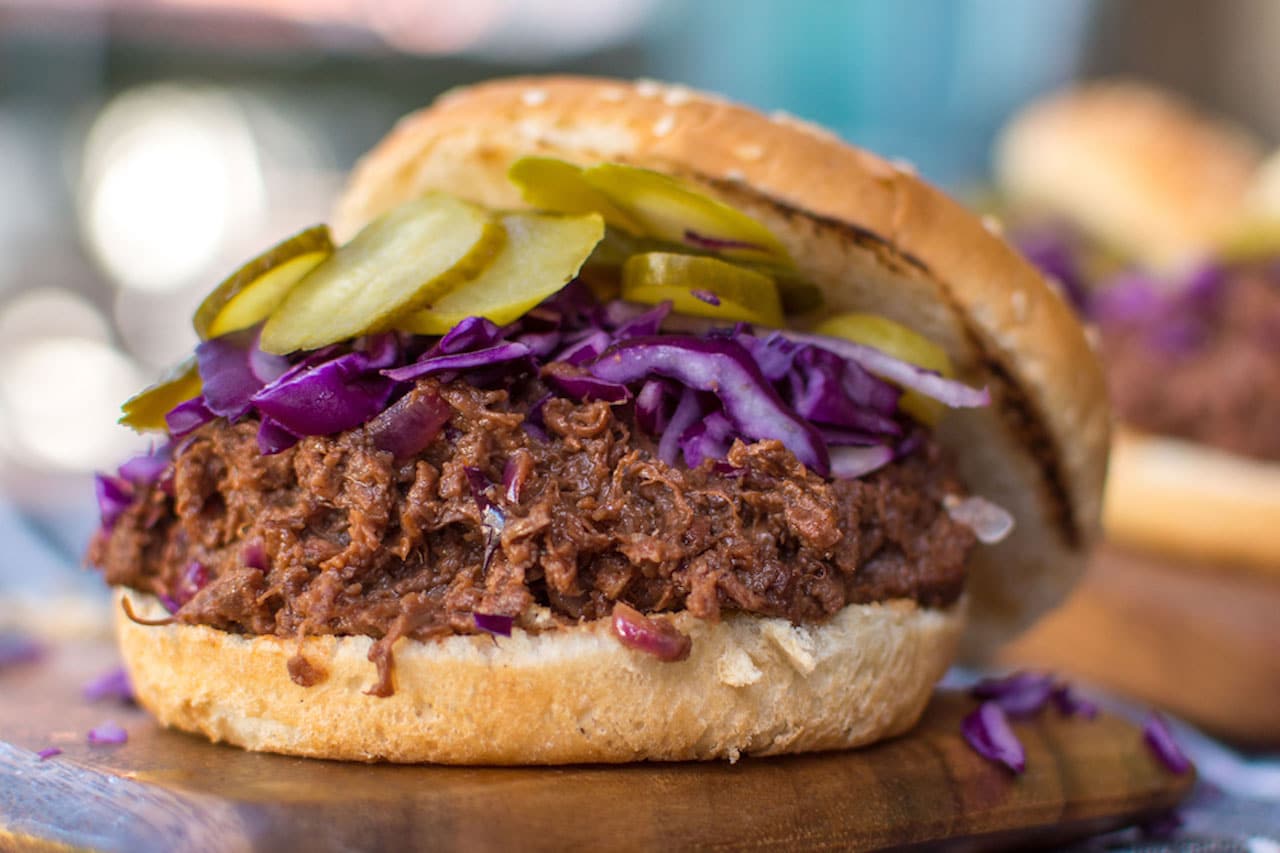 Prep time: 5 minutes | Total time: 5 minutes
Yield: 4 sandwiches
INGREDIENTS
1 batch BBQ Pulled Jackfruit
1 cup finely shredded purple cabbage (or coleslaw, store-bought or from the recipe on page 162)
1 large red onion, finely sliced
Dill pickles, sliced, to taste
4 burger buns, toasted
PULLED JACKFRUIT INGREDIENTS
2 (20-oz) cans young green jackfruit, drained
1 tbsp canola or vegetable oil
½ small red onion, diced
2 medium cloves garlic, minced
1 teaspoon smoked paprika
1 cup vegan barbecue sauce
DIRECTIONS
Assemble each sandwich with a large scoop of hot BBQ-pulled jackfruit topped with cabbage or coleslaw, red onion, and pickles on a toasted bun. Devour immediately.
Notes: Some brands of buns get soggy really easily. If that's a deal-breaker for you, try using a sturdier roll or ciabatta instead.
PULLED JACKFRUIT DIRECTIONS
Using your fingers, pull apart the jackfruit pieces into shreds and remove all the tough pieces. Place the shreds and the oil in a medium pan
Place the pan over medium-high heat and add the onion and garlic—Sauté for 4 minutes or until the onion becomes translucent. Add the paprika and cook for 3 more minutes.
Pour in the barbecue sauce and cook for 3 minutes. Serve hot.