Just in time for Turkey Day, members of the Welia Health team share some of their favorite recipes—and what they love most about Thanksgiving.
Enjoy!
Mom's Wild Rice Casserole
Submitted by Amy MacLean, Pharmacy Tech, Mora Community Pharmacy
Amy's favorite part of Thanksgiving is a great big family gathering that's focused around family and delicious food.
Ingredients
1 cup uncooked wild rice
3 cups water
8-oz package of sausage
1/2 package of bacon
8-oz package of mushrooms
1 red pepper
2-3 celery stocks
1/4 onion
1 can chicken broth
1 T poultry seasoning
4 oz butter
Directions
Place wild rice into water, bring to a boil, reduce to a simmer until done
Brown sausage
Cook bacon until crispy – it will soften when you cook in the oven.
Dice vegetables and cook in butter until soft. Add red pepper last so it doesn't get too soft
Combine rice, sausage, bacon, vegetables, broth and poultry seasoning in a greased (Pam) casserole dish
Bake 1-½ hours 350°
---
Sister-in-Laws's Mandarin Orange Salad
Submitted by Judy Marek, Phlebotomist, Lab
Judy's favorite part of Thanksgiving is having her grandchildren decorate the Christmas tree. Once it's decorated She takes pictures of them with the tree which she then uses for her holiday cards.
Ingredients
Small package orange Jello
Small package vanilla pudding
2 cups water
8 oz Cool Whip
5-oz can mandarin oranges, drained
2 cups mini marshmallows
Directions
Bring the Jello, pudding and water to boiling and stir often.
When cooled to room temp, add Cool Whip and mix well.
Add drained oranges and marshmallows and mix well.
Refridgerate.
---
Grandma Marj's Pie Crust Treats
Submitted by Michelle Pogatchnik, Information Technology
Michelle's favorite part of Thanksgiving is spending time with family…and the meal!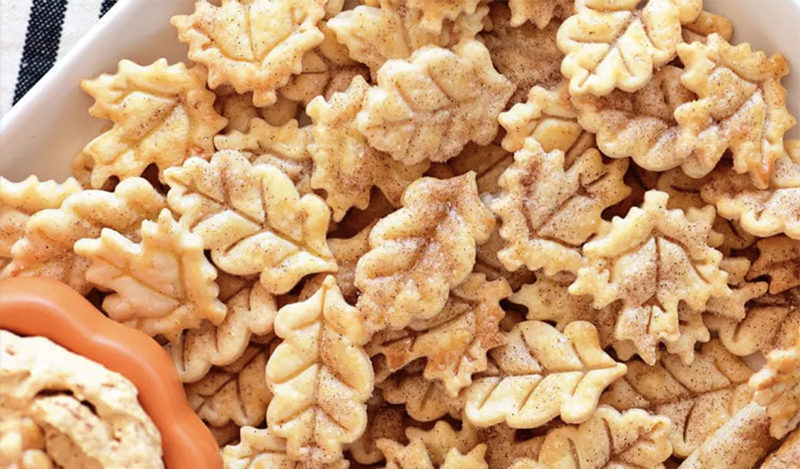 Ingredients
Extra pie dough
Cinnamon
Sugar
Directions
Roll out extra pie dough.
Cut into strips or make shapes and place on baking sheet.
Sprinkle with cinnamon-sugar and bake at 350° until slightly golden.
---
Mom's Thanksgiving Buns
Submitted by Pam Novak, Health Information
This recipe has been a family favorite for years. Pam's favorite part of Thanksgiving could be the darn good turkey sandwich she has on Friday, made with these delicious leftover buns, of course.
Ingredients
1/3 cup yellow cornmeal
1/2 cup white sugar
2 tsp salt
1/2 cup butter
2 cups milk (2% or whole)
Cook all of the above together until thick, remove from heat, and cool.
1 package yeast dissolved in 1/4 cup warm water
2 eggs
4 cups flour, or more as needed
Directions
Mix cooled mixture with the above, knead, let rise, punch down and rise again.
Roll out about 1-inch thick, cut into circles (nice size for buns), brush with butter and dust with cornmeal.
Let raise till nice and fluffy and bake at 375° for 10-15 minutes or until nice and brown on the bottom.
---
Grandma's Oven Omelet
Submitted by Jessica Marotte, Coding Specialist
Jessica's favorite part of Thanksgiving is the time with family. After lunch, she and her husband head to Turtle Lake Casino.
Ingredients
2 packages Simply Potatoes hashbrowns
½ cup butter, melted
1 cup pepper cheese, shredded
1 cup swiss cheese, shredded
2 cups cheddar cheese, shredded
2 cups ham, diced
1 cup milk
4 eggs
½ tsp salt
Directions
Grease a 9-in. x 13-in pan.
Make a solid crust by packing hashbrowns in the bottom with melted butter.
Bake at 425 degrees for 25 minutes.
Layer with ham and cheeses.
Beat eggs, milk and salt, pour over top.
Bake at 350° for 30 minutes.
---
Butternut Squash Bake
Submitted by Cindy Teichroew, Infection Control
Cindy has been making this Taste of Home recipe for many years and says even people who don't like squash like this recipe. Her favorite part of Thanksgiving, besides all the great food, is having her family together.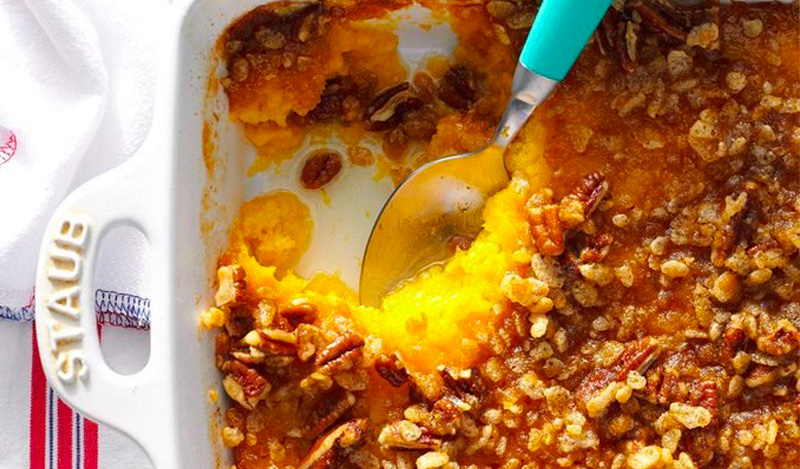 Ingredients
1/3 cup butter, softened
3/4 cup sugar
2 eggs
1 5-oz can evaporated milk
1 teaspoon vanilla extract
2 cups mashed, cooked butternut squash
Topping
1/2 cup crisp rice cereal
1/4 cup packed brown sugar
1/4 cup chopped pecans
2 tablespoons butter, melted
Directions
In a large bowl, cream butter and sugar until fluffy. Beat in the eggs, milk and vanilla. Stir in squash (mixture will be thin).
Pour into a greased 11-in. x 7-in. baking pan. Bake, uncovered, at 350° for 45 minutes or until almost set.
In a small bowl, combine topping ingredients; sprinkle over casserole. Return to the oven for 5-10 minutes or until bubbly.
Freeze option: Bake casserole as directed without adding topping. Cool, cover and freeze. Freeze topping mixture in a resealable plastic freezer bag. To use, partially thaw casserole and topping in refrigerator overnight. Remove from refrigerator 30 minutes before baking. Preheat oven to 350°. Sprinkle topping over casserole and bake until bubbly.
---
All of us at Welia Health wish you and your loved ones a safe and joyous holiday.
---