Watching the iconic 1960s cartoon The Jetsons, many viewers thought that by now families would have their very own Rosie the Robot to do household chores and help make life easier. Although robotic maids are not yet real, robots are helping to make many activities safer and more predictable, including performing some orthopedic surgeries.
Orthopedics is the medical specialty that focuses on diagnosing and treating conditions and injuries to the musculoskeletal system, or our body's bones, muscles and connective tissues. Welia Health recently became the first rural healthcare provider in Minnesota to add a Stryker Mako, a robotic-arm assisted machine used for total hip, total knee and partial knee replacement surgeries.
Mako does not perform the surgery; rather, it's a device used by orthopedic surgeon Dr. Chad Holien to help him perform surgery. Dr. Holien, an orthopedic specialist with St. Cloud Orthopedics, has completed approximately 1,100 surgeries using Mako in St. Cloud, and has been providing specialty services for patients in the East Central region for the past 17 years. As part of the long-term partnership with St. Cloud Orthopedics, Welia Health welcomes Mako to its Mora campus.
How it works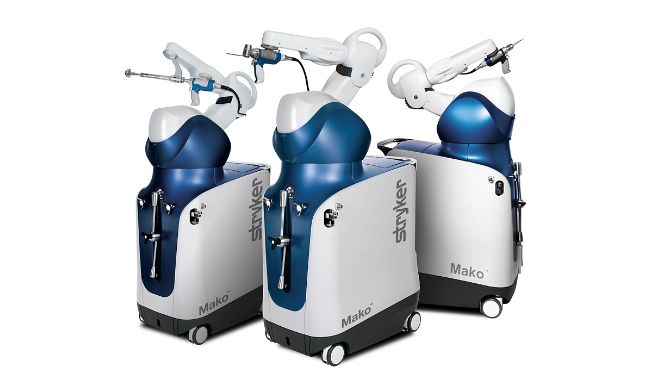 Before surgery, a CT scan is performed, and the results are entered into Mako. A CT scan is a type of imaging using multiple X-ray measurements at different angles to produce cross-sectional (tomographic) images, described as virtual slices of a specific area.
Because each patient's body measurements can differ, this allows Dr. Holien to correctly size the knee or hip implant and lets him know the precise angles he'll be operating on before the surgery even begins.
Mako's robotic arm has surgical tools attached but it's not automated. Dr. Holien has full control of the robotic arm and manipulates the arms where they need to go. Once the system is loaded with the unique patient information, a surgery plan is made in the Mako system allowing Dr. Holien to know where everything is.
Once surgery begins, Dr. Holien places a tracker device on the patient, so it can map several points matching the CT scan measurements taken the day before. The precise system lets him know during surgery how any changes could affect the patient's mobility by showing the patient's virtual function of normal range of motion.
Mako benefits
Mako helps in planning, especially when patients have had significant injuries, and lets the surgeon know, for example, if a rod that was previously inserted will be a problem. Unless Mako indicates it's a problem, the surgeon just needs to follow the plan, and not worry about a rod or other hardware that might be present.
The system has a safety feature called AccuStop haptic control technology. It sets a range and guides the surgeon to cut what is precisely planned for each patient and will shut off cutting tools if the surgeon counteracts the set plan.
This technology prevents errors by recognizing soft tissue and healthy bone by not allowing the surgeon to cut outside the parameters of what was designated to be cut. It can also protect surrounding soft tissues by eliminating the need to introduce and remove instruments multiple different times during a surgery.
Innovative care
It is unusual for a hospital in a smaller community to invest in this type of device, but Welia Health is committed to providing excellent patient care. The goal in implementing the robot is to improve patient outcomes, increase operating room efficiency, and provide the best technology for our patients.
"I wasn't thinking about robots helping me perform surgery when I was in medical school 20 years ago, but we've come a long way," adds Dr. Holien. "Mako is a new, leading-edge tool that streamlines and reduces time in surgery because I know the precise size of the implant the patient needs and exactly where to begin."
For questions or to learn more about Mako and how it can aid your surgery, contact Welia Health at 320.679.1313 to schedule an appointment with Dr. Holien.
---