Life in Rural EMS: Pete's Story
As a young boy growing up in Dayton, Minnesota, Pete Gagnon loved the show Emergency. He loved the action, adventures, and ambulances and thought how cool it would be to do that! Decades later, when the construction industry fell apart in the mid-2000s, the then 40-year-old construction worker got his shot. Knowing he'd be out of work, Gagnon started a 100-hour Emergency Medical Services (EMS) course at St. Cloud Technical College and found his second, yet first, career as a paramedic at Welia Health.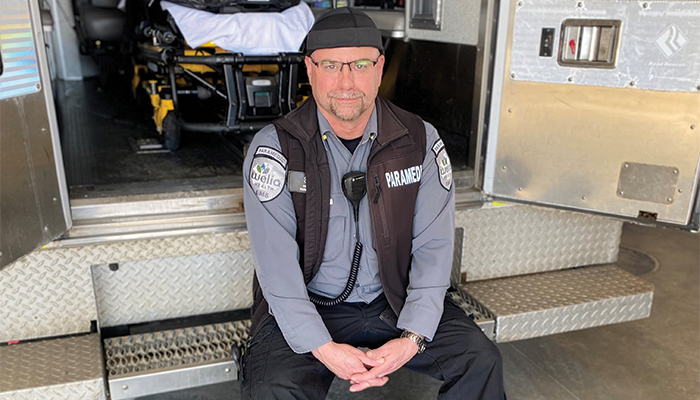 What follows is a Q&A with Pete about his experience in his career.
Q. What draws you to rural EMS?
The people and the positive impact we make on them are the best part of rural EMS. I've always lived in a rural area, so blue-collar, hard-working folks are my people. In general, we're self-sufficient and hard-working and want to be left alone — except for a good chat around the kitchen table. It's easy to build rapport with people I relate to, and with rural EMS, you have the time to talk to people and figure out what they need. Dispatch isn't rushing you off to the next location like some metro services, due to call volume.
Q. Why did you decide to become a paramedic? What qualities do you need to succeed?
A paramedic is the highest provider level of EMS, and because I like the work, I wanted to pursue it at the highest level. To succeed, you have to like problem-solving under pressure and making order out of chaos. You must rely on your training and experience in emergency situations. You have to be able to direct others in an emergency and, at the same time, build trust and rapport with the person you're helping. Nearly all of the job – 75% of it – is talking to people, so listening and communication are critical skills. I like that I'm making a difference in the lives of people in my community. Once I started down the EMS path, becoming a paramedic was a natural progression for me; it fits my personality.
Q. What are the different levels of EMS, and how do you pursue this career?
The biggest difference between the levels of EMS – emergency medical responders (EMR), emergency medical technicians (EMT), and paramedics – is the level of schooling and the particular scope of practice of what you can and cannot do. As paramedics, we can do a lot more than an EMR, so the course is much longer. At each level, you must complete the required course content to sit for the certification process required by the state and the National Registry of Emergency Medical Technicians (nremt.org).
For the paramedic level, many people can complete it in about 10 months, and you take the courses at night. Today there are some hybrid options, so in-person and online coursework. Some schools offer just the certification program, and others will wrap it into an Associate of Applied Science (AAS) degree with general education requirements for an AAS. There are other basic certifications that you often need, such as advanced cardiac life support and pediatric life support, and most schools teach those as well.
EMS works particularly well as a second or even third career when you're a little more established in life. At 40 years old, I was the oldest person in my class 15 years ago at St. Cloud Technical Community College. It can be hard when you're just starting your life, family, and career because to make good money, you're not home as much.
Whatever you decide to do, enjoy it and remember the reason you got into the field. If you're an EMT or paramedic and you're frustrated by a 3am call that wasn't an emergency – and you start to forget the humanity of the patient – then it's time to consider a new field.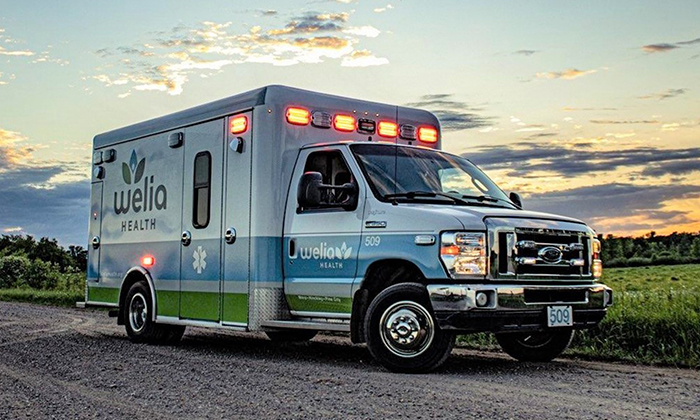 Q. Why do you like working in EMS at Welia Health?
A. Welia Health takes very good care of its employees, creating opportunities for engagement that they don't have to do, like the annual holiday party, luncheons, or some new swag. The benefits are good, and I appreciate the 6% match for 401K contributions. Welia also invests in and values EMS equipment and the department. The trucks carry state-of-the-art equipment, and our vehicles are highly maintained, which makes a hard job easier to do. Welia Health also pays for the EMS recertifications you must complete every two years, which can be hundreds of dollars.
Learn more
To learn more about general EMT careers at Welia Health, please contact EMS Manager June Juday at jjuday@WeliaHealth.org.